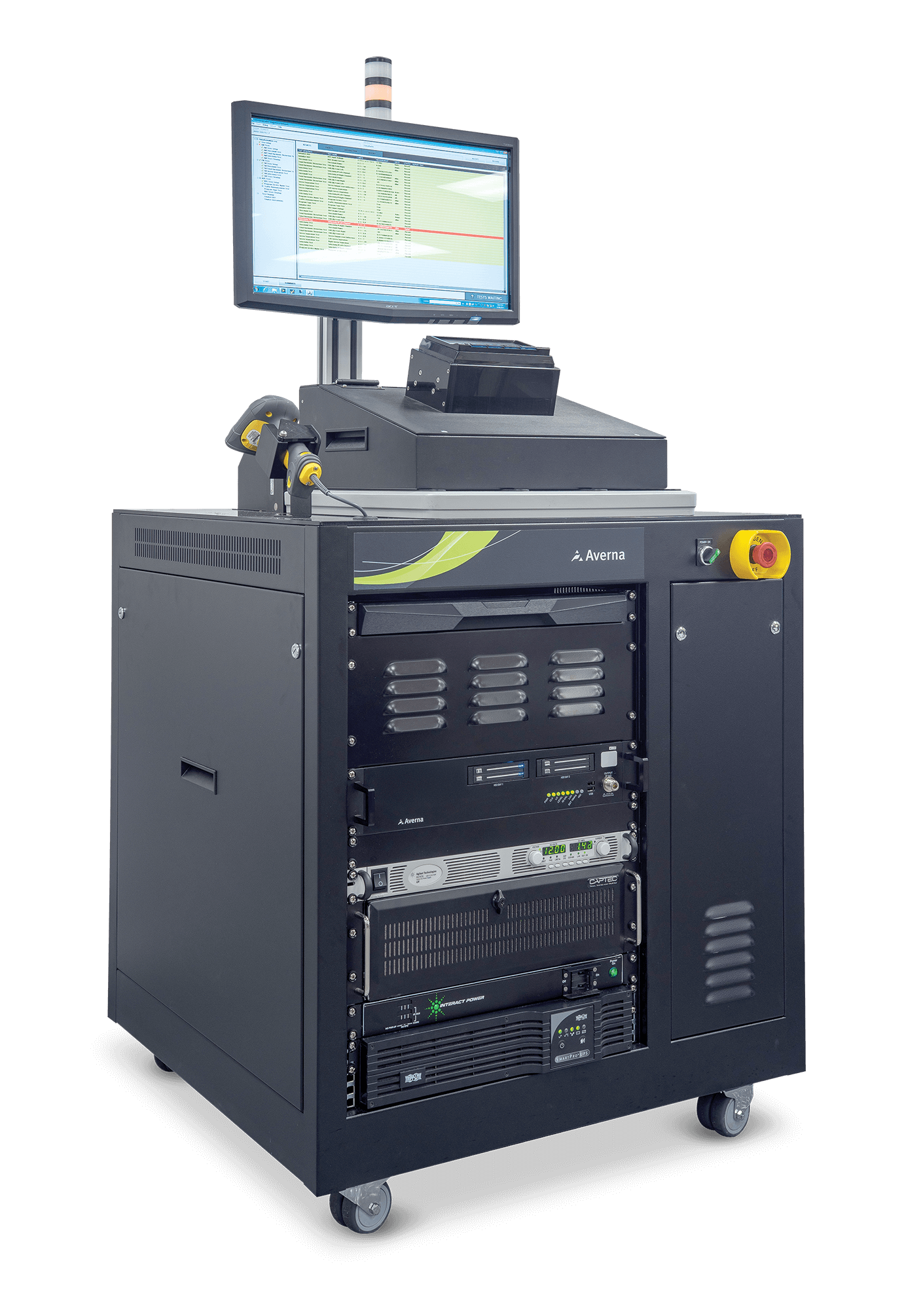 Chassis and Instruments
This is where it begins – rack and instrument selection. Sometimes our clients know exactly what they want, other times we make design and component recommendations based on test types, product mix, and budget. But one thing's clear – to test and measure electronic products, you need robust hardware.
That's why we procure and integrate only the best and most reliable racks and instruments, typically sourced from our longstanding partners – National Instruments and Keysight Technologies – or other reliable vendors.
And while most test vendors can assemble a test station, with Averna you get the added value of our hard-won expertise and best practices for instrument selection, cabling/wiring, access, safety and ergonomic features. And client support that is second to none.
Details
Full- or half-size chassis – footprint optimized for contract manufacturer (CM) sites

Environmental (ESS), Burn-in, Functional and many other types of test stations

High-performance test and measurement instruments (PXI, PXIe, VST/FPGA, etc.)

Averna award-winning

RF test instruments

such as URTs with RF toolkits

Flexible architecture, extra capacity, simplified wiring, easy access, many safety features

Legacy hardware upgrades (repurposing, conversion, parts, support)
Benefits
Flexible, cost-effective test instruments for maximum return on investment (ROI)

Industry-standard hardware and parts make stations easy to maintain and upgrade

Numerous ergonomic features for fast UUT loading/unloading and better workflow

Access to Averna hardware expertise and availability of preferential vendor pricing
Fixtures, Chambers & Test Beds
The days of hardwired fixtures are almost over. Today you can get much more value out of your test station and lower instrument costs with a flexible fixturing approach. Consider putting more test intelligence into fixtures and make them swappable to suit your needs as products evolve.
With our strong focus on high value and efficiency, we design smart fixturing systems that optimize instrument usage, speed UUTs through automated test routines, reduce wear and tear, and simplify production line changeovers and updates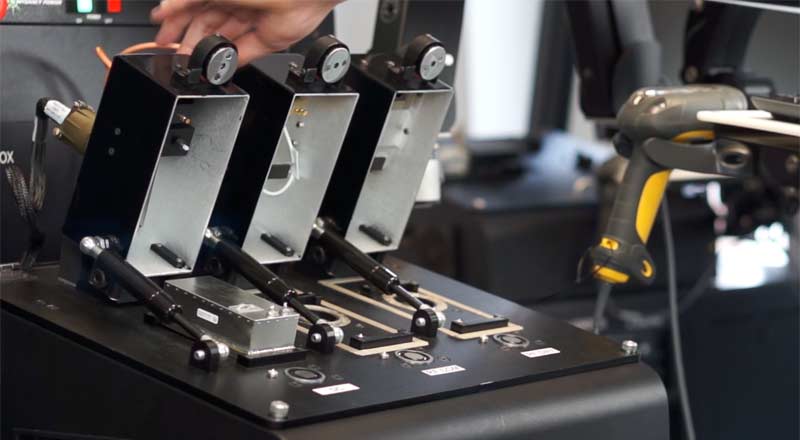 Details
Smart, swappable fixtures and flexible test beds

Multi-site setups, including multi-threading

Long-wire, short wire, and wireless

Bed-of-nails for in-circuit testing (ICT)

RF, high-speed digital, and thermal designs

SolidWorks design expertise and global manufacturing (e.g., US, Mexico, China)

Multiple options for mass interconnects (VPC, MAC Panel) and harnesses

Built-in self-test (BIST) fixtures and calibration tools
Benefits
Maximized throughput with parallel processing (two or more UUTs)

Architected for automated testing and minimal UUT manipulation

Built-in intelligent, product-specific components save on instrument costs

A single test station can test multiple products, maximizing return on investment (ROI)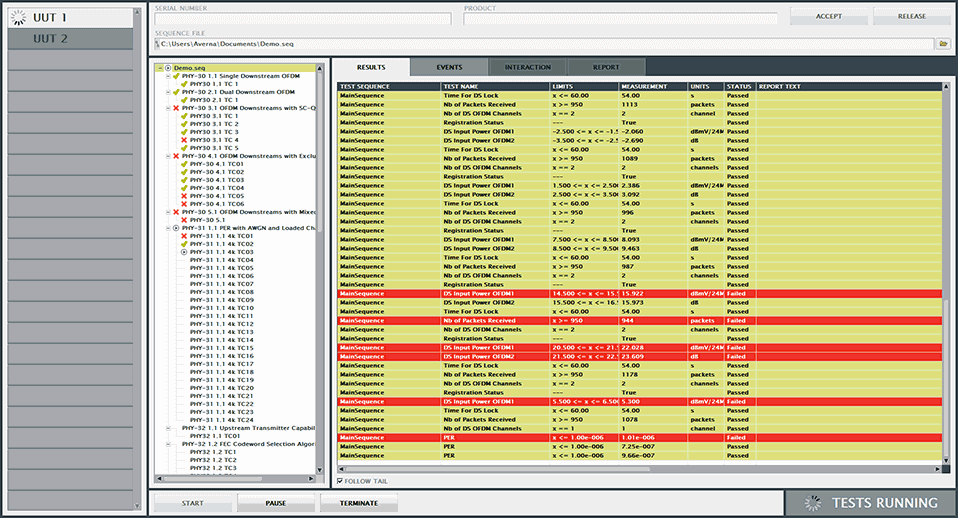 Industry-Standard Software
Software innovation is a big part of our success. We're constantly solving client challenges with new approaches ─ leaner code, better instrument control, faster processing, easier upgrades, less rework, smoother interoperability, and smarter data collection.
Using industry-standard software, we know how to optimize hardware and drive automation, quality, and efficiency results. And most turnkey projects mean a clean handover of the source code and documentation, so your own team can efficiently update it as your test needs evolve.
Details
Test spec development, testability and test coverage/yield analysis (TestWay)

Prefunctional test coverage analysis and strategies (ICT, Flying Probe, AOI, X-ray, Boundary Scan, etc.)

NI TestStand, LabVIEW, C++, C#, .NET, and Java software development and integration

Embedded software solutions, including LabVIEW FPGA expertise

125+ NI-certified TestStand and LabVIEW developers, architects and instructors

Averna Launch Test Executive with automated parallel testing to speed production and maximize instrument use
Off-the-shelf

Proligent Analytics

for test-data management, including standard charts and reports
Benefits
Software automation optimizes test instruments and improves product quality and throughput

Integration of SOPs creates paperless processes and eliminates shop-floor improvisation

Concise and timely reports (yields, defects, CPK analysis, throughput, etc.) accelerate decision-making

Turnkey implementations based on industry-standard software simplify client updates