---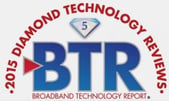 Averna has received a perfect rating of 5 diamonds in BTR's 2015 Diamond Technology Reviews for its DP-1000 DOCSIS Protocol Analyzer. In addition, the DP-1000 received the 2015 Innovation Award, given to the products that best demonstrate a game-changing technology and new standard for performance.
BTR's Diamond Technology Reviews is a renowned industry program developed to recognize some of the top products and solutions available to the cable industry as determined by a panel of cable telecommunications experts. Engineering executives from Time Warner Cable, Bright House Networks, Suddenlink Communications, Comcast, Charter and Cox, and several expert consultants, were among the third-party judges for the 2015 Diamond awards.
The judges had this to say about Averna's DP-1000 DOCSIS Protocol Analyzer:
"The Averna DP-1000 is arriving just in time for those MSOs preparing to deploy DOCSIS 3.1. I have not seen anything like it out there."
"These guys get it. I like that they are on the front edge of QoE with regard to DOCSIS 3.1. Services on that spec will be launched much quicker and tools within the system help maintain plant integrity. A great package!"
Developed with major industry players and designed for both DOCSIS 3.0 and DOCSIS 3.1, Averna's DP-1000 provides users with state-of-the-art tools for analyzing, debugging, maintaining and monitoring local networks and Internet connections. Multiple system operators (MSOs), chipset manufacturers, product developers and certifications bodies use it to quickly find and correct trouble spots in order to maintain the highest quality of service possible. For more information about the DP-1000 DOCSIS Protocol Analyzer, click here.
"We are extremely proud to achieve a top rating of 5 Diamonds and receive this year's Innovation Award for our DP-1000 DOCSIS Protocol Analyzer," said Alex Pelland, Director of Broadband Test Strategy at Averna. "As providers begin evaluating DOCSIS 3.1 equipment, they also need to consider the best test tools required to accelerate certification and troubleshoot communication issues. Our DP-1000 is designed to handle both new D3.1 challenges as well as current D3.0 deployments, and help providers maintain their networks with the highest quality of service."