---
This Award Recognizes Averna's Success in the Development of International Markets.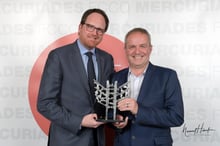 Montreal, Canada, May 3 2022 – Averna, the leading global Test & Quality Solutions provider, announced today that it has received the Mercuriades award in the category of Business Development of International Markets. Last night's award gala brought together nearly 1,000 guests at the Palais des Congrès de Montréal where the Fédération des chambres de commerce du Québec (FCCQ) announced the names of the winners of the 42nd edition of the Mercuriades competition! This year, 34 entrepreneurs were awarded the prestigious Mercure Prize in one of the 16 categories in both large and small/medium size business streams.
"The Mercuriades competition recognizes the visionary spirit, audacity and know-how of companies that have contributed to the development of Quebec and its regions for more than 40 years. Our economy needs pioneering and innovative entrepreneurs like Averna! In an uncertain economic climate and a rapidly changing job market, the winners are inspiring models that we are proud to honour, and to promote to the Quebec business community," announced Charles Milliard, President and General Manager of the FCCQ.
"It is truly an honour for our entire team to win this award." said Francois Rainville, President and CEO of Averna. "By persevering with our core values of teamwork and commitment, innovation and knowledge, performance and leadership, and customer satisfaction, we are obtaining the results we strive for. Being nominated with such other impressive Quebec companies, we are proud to be recognized for our achievements and our growth."
The Development of International Markets category acknowledges companies with proven market plans for local and international expansion. This is demonstrated through developing local expertise, job creation and standing out against local competition. Other nominees in this category for small and medium size businesses include Le Groupe Flex and MediaClip.
"I would like to congratulate all the participants, whether they are winners or finalists. It is in times of uncertainty like these that we need innovative and inspiring minds like yours. Your initiatives are helping to transform our economy and make it fairer, more sustainable, and more human. Your contribution exceeds our expectations. For that, congratulations." Johanne Hinse, President of the 2022 edition of the Mercuriades competition, First Vice-President of the FCCQ and Vice-President of Programming and Community Relations, Cogeco Connexion.
Averna has set the standard in test and quality, continuously delivering high-tech solutions for the world's top innovators. They future proof their customers' operations by solving complex problems allowing them to deliver quality and receive financial benefits.
For more information on the Mercuriades award, please visit their website, available only in French.
About the FCCQ
Thanks to its vast network of nearly 130 chambers of commerce and 1,100 corporate members, the Fédération des chambres de commerce du Québec (FCCQ) represents more than 50,000 businesses operating in all sectors of the economy within the entire Quebec territory. As the largest network of business people and companies in Quebec, the FCCQ is both a federation of chambers of commerce and a provincial chamber of commerce. Its members, whether chambers or companies, all pursue the same goal: to foster an innovative and competitive business environment.
About Averna
As a global Test & Quality Solution integrator, Averna partners with product designers, developers, and OEMs to help them achieve higher product quality, accelerate time to market and protect their brands. Founded in 1999, Averna offers specialized expertise and innovative test, vision inspection, precision assembly and automated solutions that deliver substantial technical, financial and market benefits for clients in the aerospace, automotive, consumer, defense, life sciences, semiconductor, telecom and other industries. Averna has offices around the world, numerous industry certifications such as ISO 9001:2015, ITAR registration, and is partnered with NI, PTC, Keysight Technologies and JOT Automation.
© Copyright 2022 Averna. All rights reserved. Information subject to change without notice. Averna is a trademark of Averna Technologies Inc.
For more Information:
FCCQ
Laurent Corbeil
Communications and Media Specialist
Fédération des chambres de commerce du Québec
laurent.corbeil@fccq.ca
C: 514 827-3723