November 12-15, 2019
Averna returns to Munich!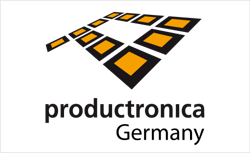 We are back in Germany for Productronica 2019, the world's leading trade fair for electronics development & production. Stop by our booth to discuss future technologies and industry trends and see how our innovative test solutions for infotainment systems, consumer devices, virtual reality, smartphones, tablets have benefited the growth of the market.
Don't Miss Our Live Demo!
Averna is teaming up with JOT Automation to showcase a customized vision system operating on Averna's All-in-One infotainment RF test solution. Stop by booth 524 to witness the power of combining the flawlessness of Vision, the RF integrity of the AST-1000 and the simplicity of the JOT M1 Test Handler. The results are a fully automated RF Signal Source Tester for infotainment, producing accurate measurements with minimal intervention.
The demo is setup for radio and navigation testing, including AM/FM, DAB, RDS and GPS TTFF. All sequences are executed without operator intervention and deliver reliable results designed for manufacturing or design & validation.
Automate All Test Requirements
Onsite we will also feature our latest demo station displaying how all manual testing can be converted to a fully automatic process. In a standard rack leveraging advanced robotics and multiple test fixtures, come witness how hands-free testing produces better results with a faster time-to-market.
Book a meeting with Averna at this event!
Event Details
When: November 12-15, 2019
Where: Messe München, Germany
Hall: A1 Booth: 524