June 13, 2019
Meet Averna in Santa Clara, California!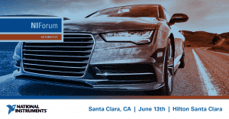 The NI Automotive Forum is a one-day event that brings together industry experts from Santa Clara and the world to discuss important issues and testing challenges on both the national and global levels. Come say hi to our team, who will be answering questions and educating about Averna solutions at booth # 1.
See Our Averna Signal Tester (AST-1000) in Action
The AST-1000 is powered by Averna's RF signal expertise and the NI VST. It is an all-in-one software-defined solution for testing all common RF signals in automotive infotainment systems. The AST-1000 captures signals including AM/FM, DAB, HD Radio, Sirius/XM, GPS, Galileo, GLONASS, ATSC, DVB and more. Come see it live in NI Week's automotive pavilion!
Book a meeting with Averna at this event!
Event Details
When: June 13, 2019
Where: Hilton Santa Clara
4949 Great America Pkwy
Santa Clara, California 95054
Booth #: 1
Visit the event's website for more information