---
The AST-1000 All-in-One Infotainment Signal Generator Now Sirius NGO Certified.

Montreal, Canada, April-30 – Averna, the leading global Test & Quality Solutions provider, announced today that with software release 8.7.0, the software-defined AST-1000 now covers the Pre-TA2, Pre-OTA Change and Module Integration including Sirius Next Generation Overlay (Sirius NGO) requirements as defined by SiriusXM. As a result, the AST-1000 now helps receiver designers and manufacturers have their products fully compatible with all capabilities within the Sirius wideband modules.
The AST-1000 is an all-in-one extensible, future-proofed platform that can handle all of today's infotainment RF and non-RF test needs while also easily accommodating changing standards, new protocols and additional applications for wide-ranging product test and validation requirements.
In addition to the added features of this update including running multiple toolkits in parallel, Averna has decided to upgrade all AST-1000s for Windows 10 compatibility free of charge for its active support users.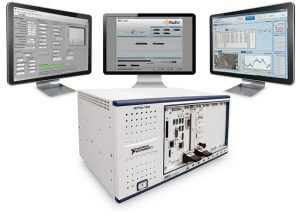 "We are very excited to release these additional benefits to our AST-1000 customers." Said Abdelkarim, Ouadid Product Owner – RF & Infotainment. "The AST-1000 now provides service level testing for data services or audio channels on NGO, increasing an already wide spectrum of RF signal generation with the additional security of Windows 10."
Additional AST-1000 Key Features and Benefits include:
• Supports all common radio, video, navigation and connectivity protocols
• Flexible PXIe architecture allows integration of other applications/cards
• Ideal for design validation as well as functional and EOL testing
• Standardized APIs for seamless upgrade from older Averna RF signal-source products
Pricing and Availability
The AST-1000 is designed for both manufacturing and validation and pricing varies accordingly. All information regarding hardware and available protocols is available directly on Averna's website.
About Averna
As a global Test & Quality Solution leader, Averna partners with product designers, developers and OEMs to help them achieve higher product quality, accelerate time to market and protect their brands. Founded in 1999, Averna offers specialized expertise and innovative test, vision inspection, precision assembly and automated solutions that deliver substantial technical, financial and market benefits for clients in the aerospace, automotive, consumer, defense, life sciences, semiconductor, telecom and other industries. Averna has offices around the world, numerous industry certifications and registrations such as ITAR, and is partnered with National Instruments, PTC, Keysight Technologies and JOT Automation. www.averna.com
© Copyright 2020 Averna. All rights reserved. Information subject to change without notice. Averna is a trademark of Averna Technologies Inc.