---
Averna's Extensible AST-1000 Is Designed to Handle All Infotainment Signal-Testing Requirements with Software-Defined Flexibility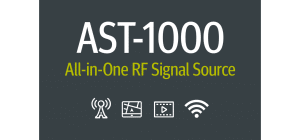 Austin, TX, August 1, 2016 – Averna, a leading global Test & Quality Solutions provider, launched today the first all-in-one infotainment RF signal source based on the NI Vector Signal Transceiver.

Featuring Averna's leading RF and test expertise, the software-defined AST-1000 can generate all common infotainment RF signals, including AM/FM, DAB, GPS, HD Radio, and Sirius/XM. This all-in-one solution is ideal for validating automotive infotainment systems.Due to the AST-1000's software-defined architecture, this innovative instrument will soon accommodate new signals, including connectivity protocols like Bluetooth and WiFi, and non-RF signals like CAN for bus monitoring.
Key Features and Benefits
Supports all common broadcast radio and navigation protocols
FPGA framework easily accommodates new signals, saving on instrument costs
Seamless integration with Averna URT Instruments to protect your investment
Easy-to-use interface for quick signal generation and easy test setups
Flexible PXIe architecture allows integration of other applications/cards
Rackmountable, it handles lab validation as well as functional and EOL testing
Standardized platform, easy calibration, simple maintenance, and global support
To learn more about the AST-1000, visit www.averna.com/AST-1000
"We've been working closely with the team at NI to develop an RF signal source based on the NI Vector Signal Tranceiver, so it's fitting to launch our AST-1000 during NIWeek 2016," said Alex Pelland, Product Marketing Manager at Averna. "The AST-1000 is an innovative software-defined instrument, ideally suited for infotainment testing applications. It currently supports all common broadcast radio and will soon be able to accommodate new signals, such as navigation (GNSS), audio/video, and connectivity."
"The Averna AST-1000 is a great example of bringing innovative test solutions to market through our Alliance Partner Network by combining Averna's extensive industry knowledge with NI's flexible PXI-based platform." said Michael Schneider, Principal Product Manager at National Instruments "The AST-1000 is sure to appeal to automotive infotainment developers who want a software-defined instrument that will continue to evolve to cover their ongoing test requirements."
Pricing and Availability
The Averna AST-1000 is available now to customers worldwide. Detailed pricing and product information is available on request; please contact us at sales@averna.com or visit the AST-1000 product page.
Averna at NI Week, August 1-4 2016, in Austin, TX
Averna will be demoing the new VST-based AST-1000 RF Signal Source as well as the PXIe-based PIM Analyzer during NI Week – booth #310.
Click to Tweet From @Avernatech Averna Launches First All-in-One Infotainment RF Signal Source Based on NI's VST – http://bit.ly/2cc1gyH
About Averna
As a global Test & Quality Solution leader, Averna partners with product designers, developers and OEMs to help them achieve higher product quality, accelerate time to market and protect their brands. Founded in 1999, Averna offers specialized expertise and innovative test, vision inspection, precision assembly and automated solutions that deliver substantial technical, financial and market benefits for clients in the aerospace, automotive, consumer, defense, life sciences, semiconductor, telecom and other industries. Averna has offices around the world, numerous industry certifications such as ISO, CSIA, and ITAR registration, and is partnered with National Instruments, Keysight Technologies and JOT Automation. www.averna.com
About National Instruments
Since 1976, NI (www.ni.com) has made it possible for engineers and scientists to solve the world's greatest engineering challenges with powerful platform-based systems that accelerate productivity and drive rapid innovation. Customers from a wide variety of industries – from healthcare to automotive and from consumer electronics to particle physics – use NI's integrated hardware and software platform to improve the world we live in.
© Copyright 2016 Averna. All rights reserved. Information subject to change without notice. Averna is a trademark of Averna Technologies. National Instruments, NI, ni.com and NIWeek are trademarks of National Instruments. Other product and company names listed are trademarks of their respective companies.
###
Technical Information
Alex Pelland, Product Marketing Manager
alex.pelland@averna.com
T: +1 514-842-7577 x689
Media Contact
Isabelle Pilon, Marketing Specialist
isabelle.pilon@averna.com
T: +1 514-842-7577 x421
M: +1 514-814-8928