---
Montreal, Canada, April 12 2023 – Averna, has worked successfully on a number of important automation projects with Eclipse Automation, a leading smart automated systems manufacturer part of Accenture Industry X. It's been such an effective collaboration for both companies, and clients, that we are pleased to announce a strategic partnership. This allows us to continue to set the pace in providing smart automated solutions together when the project would benefit from our combined expertise.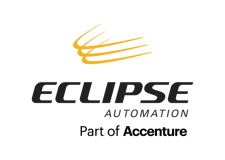 By combining the competencies of both companies, advanced automation solutions can be delivered effectively to global product manufacturers in various industries including medical devices and life sciences, automotive, energy, consumer electronics, and industrials.
"This partnership has been a long time coming." explains François Rainville, President & CEO at Averna. "Eclipse and Averna have been collaborating on several high-profile projects. With both companies having complementary expertise within different areas of manufacturing, our combined solutions have reduced costs, accelerated production and improved product quality for our clients."
Eclipse Automation offers automated production lines that can leverage high-performing resources like the cloud, real-time data, and artificial intelligence (AI). This expertise is making factories and plants smarter and thus, more productive, sustainable, and safe.
"By including Averna's in-depth quality and test automation expertise with our design and build capabilities, Eclipse' production lines are a complete solution to deliver reliable, high-quality products." said Steve Mai, CEO of Eclipse Automation.
To date, Eclipse Automation and Averna have delivered several key joint solutions across the world. With their global footprint, Eclipse and Averna are available to support product manufacturers around the world.
Contact us today for expert advice on how to make the most of smart manufacturing innovations.
About Eclipse Automation
Eclipse Automation, part of Accenture, harnesses multi-industry know-how and the power of vertical integration to provide seamless custom automated systems that brings our customers' products to life – on time and on budget. Their network of Eclipse facilities in Canada, the United States, Germany, Hungary, and Malaysia, provides global bench-strength and regional know-how across expert teams that design, build, and integrate advanced automation solutions for many of the world's leading manufacturers. They serve diverse industries, creating innovative automation for the Life Sciences, High-Tech Automotive, Consumer Products, and Alternative Energy sectors. At Eclipse they partner with our future-forward customers to deliver end-to-end solutions that make their final products extraordinary. www.eclipseautomation.com
About Averna
As a global Test & Quality Solution integrator, Averna partners with product designers, developers and OEMs to help them achieve higher product quality, accelerate time to market and protect their brands. Founded in 1999, Averna offers specialized expertise and innovative test, vision inspection, precision assembly and automated solutions that deliver substantial technical, financial and market benefits for clients in the aerospace, automotive, consumer, energy, industrials, life science & medical devices, semiconductor, telecom and other industries. Averna has offices around the world, numerous industry certifications such as ISO 9001:2015, ITAR registration, and is partnered with NI (formerly National Instruments), PI (Physik Instrumente) Group, Keysight Technologies and JOT Automation. www.averna.com

© Copyright 2023 Averna. All rights reserved. Information subject to change without notice. Averna is a trademark of Averna Technologies Inc.