---
"As a great test engineering partner, Averna supports clients with the best Record and Playback solution to perform tests with repeatable field data in lab conditions, reducing both time and cost"
Montreal, Canada, June 16, 2016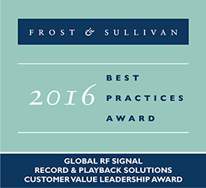 – Averna, an industry-leading developer of test solutions and services for communications and electronics device-makers worldwide, announced it has received Frost & Sullivan's 2016 Global Leadership Award for its RP-6100 Series RF Record & Playback solution.

According to Frost & Sullivan, a leading global growth consulting firm, Averna has emerged as a leader in the RF Record and Playback solution market. With its flexible, modular, and software-defined platforms for RF signal record and playback applications, Averna provides its customers with optimal solutions for their RF communication testing needs.
"Frost & Sullivan's independent analysis clearly shows that by providing a single platform solution for testing all GNSS bands, HD Radio, WiFi, LTE, and more, Averna ensures both convenience and cost effectiveness for its customers," noted Frost & Sullivan Senior Consultant Prem Shanmugam. "Further, the solution is offered in desktop, portable, and rackmount versions, allowing customers to optimize usage based on whether it is a simple desktop measurement, a field trial, or an extensive design test in a lab. This is in contrast to competitors that offer lesser range solutions and often either a portable or a rackmount option only."
"We are honored that Frost & Sullivan has recognized Averna's leadership in the RF Record and Playback solutions market," commented Alex Pelland, Product Marketing Manager at Averna. "Our portfolio of RF Record and Playback solutions empowers device manufacturers to efficiently record, analyze, and play back all common radio, video, and navigation signals, ensuring complete test coverage and the highest quality for their RF products."
Click to tweet: From @Avernatech: Averna Receives the 2016 Frost & Sullivan Global Leadership Award for its RF Record and Playback Solutions – www.averna.com
About Averna's RF Record and Playback Solutions
The Averna RP-6100 Series is a record and playback solution for RF application validation. It can capture all GNSS bands, as well as HD Radio, WiFi, LTE, radar, and cognitive radio – plus impairments – to significantly advance RF projects and harden product designs. Its features include:
Frequency range of 10–6000 MHz, covering all GNSS bands, plus HD Radio, WiFi, LTE, and more

Multi-channel (1-4): Up to 160 MHz of bandwidth at 14-bit resolution (< 1 Hz)

3.8 TB SSD storage or 16 TB HDD storage (for up to 20 hours of recordings)

Preloaded with RF Studio software for quick setups and in-depth analysis

Four models: RP-6120 (2 ch.), RP-6120P (2 ch. portable), RP-6120D (2 ch. desktop) and RP-6140 (4 ch.)
Visit the RP-6100 Series page for more details.
About Averna
As the leading Test Engineering company in the world, Averna is a strategic partner for electronic and communication product developers, helping them achieve higher product quality, faster time to market, and greater value from their test systems. Founded in 1999, Averna offers specialized expertise and innovative test solutions that deliver substantial financial, technical and brand benefits for hundreds of clients in the aerospace, automotive, consumer electronics, defense, life sciences, telecom and transportation industries. Averna has offices around the world, numerous industry certifications such as ISO, CSIA, and ITAR registration, and is partnered with National Instruments, Keysight Technologies, and JOT Automation. www.averna.com

© Copyright 2016 Averna. All rights reserved. Information subject to change without notice. Averna is a trademark of Averna Technologies.

###

Media Contact
Isabelle Pilon
Marketing Specialist
isabelle.pilon@averna.com
T: +1 514-842-7577 x421
M: +1 514-814-8928