---
Global Premier Status Highlights Exceptional Performance within the NI Partnership Program.
Montreal, Canada, May 23 2022 – Averna, the leading global Test & Quality Solutions provider, announced today that they have been awarded Global Premier Partner Status for NI, Formerly National Instruments.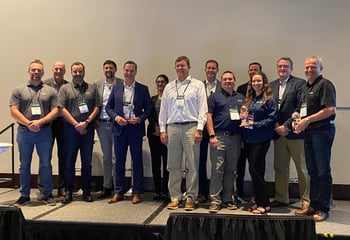 NI is the leading innovator in automated test and automated measurement equipment, helping groundbreaking companies solve their biggest challenges. With over 1000 system integrator partners around the world, less than a handful have been given global premier status by excelling in the following areas:
Customer reach and capacity
Capabilities on NI platforms and integration abilities
Stability, Propensity for Growth & Maturity
In-House Resources
Quality and Process
"Having been an NI partner for 22 years, we sincerely appreciate this recognition." said Francois Rainville, President & CEO of Averna. "Having our teams work side by side has allowed us to develop some of the most impressive test and measurement solutions for our customers. We are looking forward to more ambitious engineering, as a Global Premier Partner."
This nomination was announced during the Partner Day Keynote speech, preceding the NI Connect annual conference being held in-person on May 24-25 in Austin, Texas. Additional NI Connect events will be held later this year in Shanghai and Munich.
About Averna
As a global Test & Quality Solution integrator, Averna partners with product designers, developers, and OEMs to help them achieve higher product quality, accelerate time to market and protect their brands. Founded in 1999, Averna offers specialized expertise and innovative test, vision inspection, precision assembly and automated solutions that deliver substantial technical, financial and market benefits for clients in the aerospace, automotive, consumer, defense, life sciences, semiconductor, telecom and other industries. Averna has offices around the world, numerous industry certifications such as ISO 9001:2015, ITAR registration, and is partnered with NI, PTC, Keysight Technologies and JOT Automation. www.averna.com
© Copyright 2022 Averna. All rights reserved. Information subject to change without notice. Averna is a trademark of Averna Technologies Inc.