---
Honored for Highest Number of Certified LabVIEW and TestStand Architects and Developers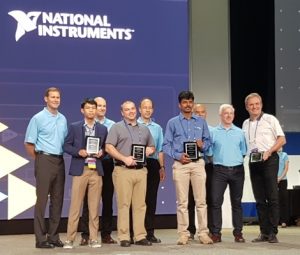 Austin, TX, May 21, 2018 – Averna, a leading global Test & Quality Solutions provider, received today the NI Alliance Partner Network Outstanding Technical Resources Award – Platinum Level. The award was announced at Alliance Day on May 21 in Austin, Texas during the 24th annual NIWeek, where thousands of innovators representing a wide spectrum of industries come to learn about the latest technologies for software-defined systems in test, measurement and control.
This award honors Alliance Partner companies with the most NI certified architects and developers supporting customers with integration and consulting projects.
"Our Alliance Partners are an integral part of the NI ecosystem, and we're excited to honor Averna for its commitment to ensuring NI customer success," said Tony Vento, vice president of Systems Assurance and Partners at NI.
About Averna
As a global Test & Quality Solution leader, Averna partners with product designers, developers and OEMs to help them achieve higher product quality, accelerate time to market and protect their brands. Founded in 1999, Averna offers specialized expertise and innovative test, vision inspection, precision assembly and automated solutions that deliver substantial technical, financial and market benefits for clients in the aerospace, automotive, consumer, defense, life sciences, semiconductor, telecom and other industries. Averna has offices around the world, numerous industry certifications such as ISO, CSIA, and ITAR registration, and is partnered with National Instruments, Keysight Technologies and JOT Automation. www.averna.com
© Copyright 2018 Averna. All rights reserved. Information subject to change without notice. Averna is a trademark of Averna Technologies Inc.
LabVIEW, National Instruments, NI, ni.com, NI TestStand and NIWeek are trademarks of National Instruments. Other product and company names listed are trademarks or trade names of their respective companies.
A National Instruments Alliance Partner is a business entity independent from National Instruments and has no agency, partnership or joint-venture relationship with National Instruments.
###
Media Contact
Isabelle Pilon
isabelle.pilon@averna.com
T: +1 514-842-7577 x421
M: +1 514-814-8928