---
RP-6500 provides 500 MHz of streaming bandwidth for recording outdoor RF signals and repeatable testing in the lab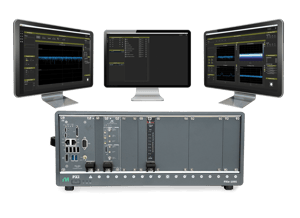 Montreal, Canada, February 15, 2018 – Averna, a leading global Test & Quality Solutions provider, announced today a wideband RF Record and Playback platform. The RP-6500 records and plays back up to 500MHz of RF spectrum—from 9 kHz to 6 GHz—making it ideal for multi-constellation GNSS applications. The system can also capture other signals such as Wifi, V2x, spectrum sharing, and cellular applications.
The system fits into a car trunk for driving/recording applications, and syncs with both a GPS and Averna's DriveView software, for synchronized location and video capture that is time-aligned with your data.
Preloaded with RF Studio, powerful RF record/playback software for capturing real-world RF spectrum, including GNSS, radio, video & location data. A state-of-the-art workflow tool, the RP-6500 Series lets you quickly set up your recordings, add contextual data, visualize weak signals, and analyze your collected RF environments to validate and fine-tune your designs and products.
To learn more about the RP-6500 wideband RF Record and Playback, visit the product page >>
Key Features and Benefits
• Easy-to-use RF Studio user interface
• 500 MHz wide instantaneous bandwidth
• Covers most common wireless protocols from 9 kHz to 6 GHz
• High dynamic range (14 bits, ~ 86 dB)
• Form factor allows rack mounting or car trunk portability
• Time-synchronized capture of RF, signals, and messages
"The RP-6500 is a complete RF Record and Playback platform–it's been designed and built from the ground up to be all-in-one," said Alex Pelland, Product Line Manager at Averna. "The hardware ticks all the boxes for serious users, and we've bundled it with RF Studio, so that all users can achieve simple configuration, file management, and visualization as well."
Pricing and Availability
The Averna RP-6500 is available now to customers worldwide. Detailed pricing and product information is available on request. Please contact sales@averna.com or visit the RP-6500 product page.
Click to Tweet: From @Avernatech: Averna Introduces High Performance 500 MHz Wideband RF Record and Playback for advanced #GNSS applications – www.averna.com
About Averna
As a global Test & Quality Solution leader, Averna partners with product designers, developers and OEMs to help them achieve higher product quality, accelerate time to market and protect their brands. Founded in 1999, Averna offers specialized expertise and innovative test, vision inspection, precision assembly and automated solutions that deliver substantial technical, financial and market benefits for clients in the aerospace, automotive, consumer, defense, life sciences, semiconductor, telecom and other industries. Averna has offices around the world, numerous industry certifications such as ISO, CSIA, and ITAR registration, and is partnered with National Instruments, Keysight Technologies and JOT Automation. www.averna.com
© Copyright 2018 Averna. All rights reserved. Information subject to change without notice. Averna is a trademark of Averna Technologies Inc.
###
Technical Information
Alex Pelland, Product Line Manager
alex.pelland@averna.com
T: +1 514-842-7577 x689
Media Contact
Isabelle Pilon
isabelle.pilon@averna.com
T: +1 514-842-7577 x421