---
Averna's AST-1000 Now Offers Radio, Navigation and Video Testing in One Platform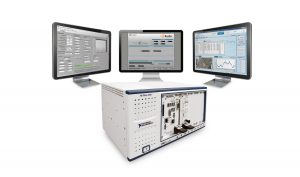 Montreal, Canada, May 18, 2017 – Averna, a leading global Test & Quality Solutions provider, announced today a strategic partnership with MaxEye Technologies to distribute their digital video and audio signal generation toolkits. This partnership will allow Averna to add full digital video and audio testing capability to its Averna Signal Tester (AST-1000) RF Signal Source platform, in addition to its existing RF toolkits such as AM/FM, HD Radio and Sirius XM as well as full GNSS simulation.
The AST-1000 is the only all-in-one RF test solution on the market designed to cover all common radio, navigation, video and connectivity protocols for infotainment system manufacturers. Based on the NI VST and featuring Averna's leading RF and test expertise, the software-defined AST-1000 now supports MaxEye's DRM, ISDB-T, ATSC, DVB-T, CMMB, and DTMB digital video and audio toolkits. To learn more, visit the AST-1000 webpage.
"We're extremely happy to partner with MaxEye Technologies to add their digital video and audio testing capability to our AST-1000, an advanced solution for both the design validation and manufacturing of infotainment systems," commented Jean-Lévy Beaudoin, Vice-President, Platforms & Innovation, R&D for Averna. "The response from our customer base and the industry has been very positive and we look forward to adding even more capabilities to our future-proofed infotainment platform."
"We're very excited about our partnership with Averna and this enables us to provide complete infotainment test solution for design, system level validation and manufacturing test using the only all-in-one RF test Solution AST-1000 in India," commented Ramesh Krishnan, Director, MaxEye Technologies. "We have received very good response from our customers in the automotive industry and the local support they can get in India with this next generation infotainment test solution. Together with Averna we look forward to address the continuously evolving requirements of the automotive infotainment test."
Pricing and Availability
The Averna AST-1000 platform and toolkits are available to customers worldwide. Detailed pricing and product information is available on request. Please contact sales@averna.com or visit the AST-1000 product page.
Click to Tweet: From @Avernatech: Averna partners with MaxEye to market digital video & audio toolkits for #infotainment – www.averna.com
About Averna
As a global Test & Quality Solution leader, Averna partners with product designers, developers and OEMs to help them achieve higher product quality, accelerate time to market and protect their brands. Founded in 1999, Averna offers specialized expertise and innovative test, vision inspection, precision assembly and automated solutions that deliver substantial technical, financial and market benefits for clients in the aerospace, automotive, consumer, defense, life sciences, semiconductor, telecom and other industries. Averna has offices around the world, numerous industry certifications such as ISO, CSIA, and ITAR registration, and is partnered with National Instruments, Keysight Technologies and JOT Automation. www.averna.com
About MaxEye
We are a Test and Measurement company, specialized in providing turnkey solutions, products and consulting services. Founded in 2011, Silver Alliance Partner of National Instruments, we have strong expertise in providing automotive infotainment test, ATE Development, RF test and measurement. MaxEye Technologies has six years of experience in providing automotive infotainment test solution for design, validation and production test. Our vision is to become global leader in test and measurement engineering by leveraging our knowledge in RF, Wireless, signal processing and test automation. We intend to do this by challenging the traditional techniques to test and measurement with technology innovations to achieve accurate repeatable measurements and reduce the test time and cost. www.maxeyetech.com.
© Copyright 2017 Averna. All rights reserved. Information subject to change without notice. Averna is a trademark of Averna Technologies Inc. National Instruments, NI, ni.com and NIWeek are trademarks of National Instruments. Other product and company names listed are trademarks of their respective companies.
###
Technical Information
Alex Pelland, Product Marketing Manager
alex.pelland@averna.com
T: +1 514-842-7577 x689
Media Contact
Isabelle Pilon, Marketing Communication Consultant
isabelle.pilon@averna.com
T: +1 514-842-7577 x421
M: +1 514-814-8928