---
Jupiter 310 Enables Cable-Product Manufacturers to Get to Market Faster with Highest Quality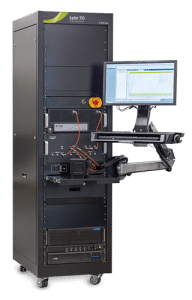 Montreal, Canada – May 6, 2015 – Averna, an industry-leading developer of test solutions and services for communications and electronics device-makers worldwide, announced today the availability of its DOCSIS 3.1 Design Verification System, the Jupiter 310.
The Jupiter 310 enables comprehensive, automated physical (PHY) layer testing for data-over-cable CPE developers, MSOs and certification labs. By automating PHY tests with the built-in DOCSIS 3.1 acceptance test plan (ATP), Jupiter indicates exactly when new products such as cable modems and set-top boxes are ready for DOCSIS 3.1 certification.
"The rollout of DOCSIS 3.1 products is one of the top priorities for the cable industry this year," said Alex Pelland, Director of Broadband Test Strategy for Averna. "The Jupiter 310 Design Verification System provides a significant competitive advantage for device-makers worldwide, enabling them to automate PHY layer testing with the built-in DOCSIS 3.1 ATP to ensure a smooth certification phase and accelerate their time-to-market."
Jupiter 310 Features & Benefits
Comprehensive, built-in DOCSIS PHY test coverage
Includes DOCSIS DP-1000 Protocol Analyzer and Vector Signal Analyzer (VSA)
Accelerates debugging, calibration and verification
Takes tens of thousands of measurements
Single and bonded channel testing
Configurable test scripts and flexible reports
Includes installation, and one-year warranty and support
Pricing and Availability
The Jupiter 310 is available now for customers worldwide. Please contact Averna at sales@averna.com for details or visit the Jupiter 310 product page.
Click to Tweet: From @Avernatech: Averna Announces Availability of its #DOCSIS 3.1 Design Verification System www.averna.com
About Averna
Averna is a premier Test Solutions provider for communications and electronics device-makers worldwide, helping them deliver better end-user customer experience. Key Averna clients in the communications, aerospace, defense, automotive, consumer electronics, and medical-device industries profit from Averna's leading Test Engineering services, automated test solutions, RF test instruments, and test-data management to accelerate product development, reduce manufacturing costs, achieve superior quality throughout the product lifecycle, and solve critical supply-chain issues.
Averna has offices around the world as well as a network of partners such as National Instruments, JOT Automation, and Keysight Technologies. Incorporated in 1999, Averna is a Best in Test award winner and has been honored as one of the Deloitte Fast 500 fastest-growing technology companies in North America. www.averna.com
© Copyright 2015 Averna. All rights reserved. Information subject to change without notice.
Averna is a trademark of Averna Technologies.
Technical Information
Alex Pelland, Director of Broadband Test Strategy
alex.pelland@averna.com
T: +1 514-842-7577 x689
Media Contact
Isabelle Pilon, Marketing Specialist
isabelle.pilon@averna.com
T: +1-514-842-7577 x421